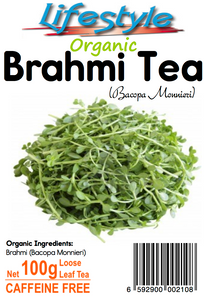 Brahmi (Bacopa monnieri) is an adaptogenic Ayurvedic herb. Adaptogens help the body adapt to stressful situations and help protect the body from the negative effects of stress.
Brahmi has been used in Ayurvedic medicine since 5000BC  as a nerve tonic.
Traditionally Brahmi has been used to improve alertness and brain fog and to overcome the negative effects of stress. It is also widely used as an antioxidant.
This product is not intended to diagnose, treat, cure, or prevent any disease.
Organic Ingredients:
Brahmi (Bacopa Monnieri)
Direction :
1/2 to 1 teaspoon per 200ml, brew 2-3 minutes in freshly boiled water.