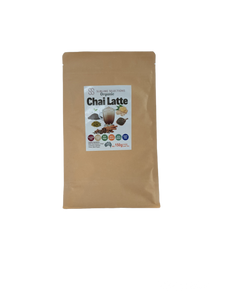 A fine blend of Spices with choice Black Tea specially blended for a perfect cup of Chai Latte. Our Chai Latte blend inspired by the Indian masala chai is the real deal and a unique classic in its own right. Over a black tea base, bold, sharp black pepper, cloves, and star anise join cardamom, cinnamon, and ginger in an assertively spicy mix. Great in winter to warm the body, Chai provides a calming boost on even the wildest day.
Organic Ingredients:
Black Tea, Cinnamon, Ginger, Cardomom, StarAnise, Cloves, Black Pepper.
Direction : 
Chai can be brewed in two ways :
Use 1 teaspoon per 200ml, brew 2-3 minutes in water at 100 degrees for a quick fix. 
Or for a more authentic taste, brew in the traditional Indian fashion.
Place 200ml water, 1 teaspoon Chai Latte, and 2 teaspoon sugar (if desired) stir and bring to the boil, add 100ml milk keep stirring, and return to low heat, simmer for 2 minutes. 
"This product is not intended to diagnose, treat, cure, or prevent any disease"