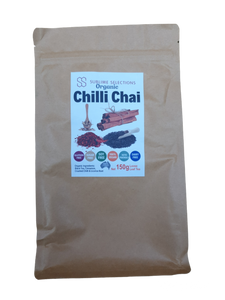 A special spicy black tea blended with chili flakes that provide an unexpected hot kick. Rich and robust, this stimulating brew heats the mouth from start to finish. Cinnamon adds its delicious aroma and gives complexity to this unique flavor sensation and licorice brings the delightfully natural sweet.

Organic Ingredients:
Black Tea, Cinnamon, Crushed Chilli & Licorice Root

Direction : 
Use 1 teaspoon per 200ml, brew 2-3 minutes in water at 100 degrees. Add a little sugar or honey to temper its fire.

"This product is not intended to diagnose, treat, cure, or prevent any disease"