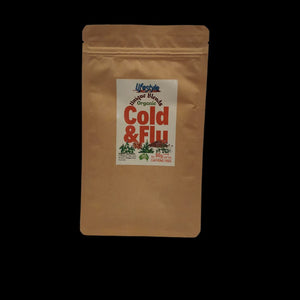 A Naturally Caffeine Free Tea.
Lifestyle Cold & Flu Blend Herbal Tea Infusions are a potent formula of select medicinal herbs, that have the inherent ability to assist in the relief of respiration and mucous congestion. Relieve symptoms of mild upper respiratory infections, aches, pains, and discomfort with tonsillitis or sore throats.
The Remedying Benefit of the Ingredients:
* Echinacea can help boost the immune system by fighting off virus microbes. It is also said to have anti-inflammatory properties. 
* Mullein - Certain compounds in mullein's leaves calm irritation or inflammation in the skin or internal parts of the nose, mouth, or throat and stimulates the production or secretion of phlegm.
* Cats Claw is also anti-inflammatory, anti-microbial (viral and bacterial), anti-oxidant, and anti-fungal.
* Turmeric's anti-bacterial, anti-viral, and anti-fungal agents can help our body fight against colds, cough, and flu.
* Peppermint, studies have shown that Peppermint can help to kills bacteria and viruses. It also has a calming and numbing effect.
Direction: 1/2 to 1 teaspoon per 200ml, brew 2-3 minutes in freshly boiled water. 
WARNING: Do not use if pregnant or nursing. Consult your health care specialist if symptoms persist or worsen. 
"This product is not intended to diagnose, treat, cure, or prevent any disease"