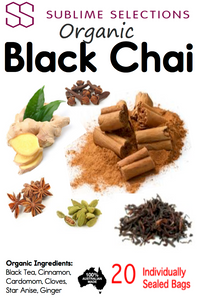 Our
Black Chai
blend is the real deal and a unique classic in its own right, robust, rich, and spicy. Black Chai is the original chai blend, which has been a favorite drink in northern India for centuries. The spices of cinnamon, cardamom, ginger, cloves are delicately blended with a special black tea to capture the ancient essence of this royal blend.
Direction: Place 1 teabag per 200mls, brew 3-5 minutes in fresh boiling water at 100 degrees celsius, Add milk and honey if required.
"This product is not intended to diagnose, treat, cure, or prevent any disease"