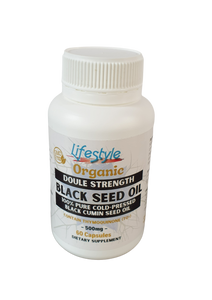 Black Seed  ( The Ancient Healer)
Black seed oil has a long history dating back over 2000 years. In fact, according to some sources, it was discovered in the tomb of King Tut. Nigella sativa seeds are sometimes used in Middle Eastern and Indian cuisine and have a slightly bitter taste. People also take it in supplement form.

The Remedying Benefit of Black Seed Included :
* Strengthens the immune system
* Helping to regulate blood sugar level
* Supports digestive health
* Helping to regulate blood pressure
* Help Reduce Inflammation and soothe aching joints
* Preserves respiratory function
* Assists cardiovascular function
* Promote longevity in both men and women
Ingredients:
500mg 100% Freshly Cold-Pressed and Unrefined Virgin Black Seed (Nigella Sativa) Oil per capsule, Gel Capsules, Gelatin (Halal Bovine) Glycerin.