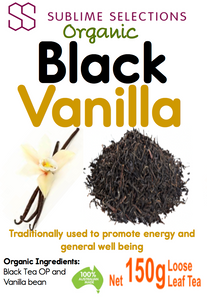 Traditionally used to promote energy and general well being
One of our favorite black teas blends with full-bodied Vanilla bean, bound to keep you cozy all year 'round. Sip it up to Australian style!
For lovers of Vanilla! Ancient Mayans believed that Vanilla drinks had aphrodisiac qualities. Vanilla contains small amounts of B-complex groups of vitamins which help in enzyme synthesis, nervous system function, and regulating body metabolism. It also contains small traces of minerals such as calcium, magnesium, potassium, manganese, iron, and zinc. Potassium is an important component of cell and body fluids that helps control heart rate and blood pressure. Studies have shown that orange pekoe has the ability to reduce the chances of a heart attack occurring with the consumption of three or more cups of the tea daily. A compound found in orange pekoe tea, rutin, has antioxidant properties that help counteract free radicals thus preventing them from damaging tissues of the body. This also helps combat premature aging, another great benefit from consuming this tea. It also helps in venous circulation in the management of varicose veins. 


Direction: 1/2 to 1 teaspoon per 200ml, brew 3 to 5 minutes in freshly boiling water, add honey or sugar and milk if desire
"This product is not intended to diagnose, treat, cure, or prevent any disease"