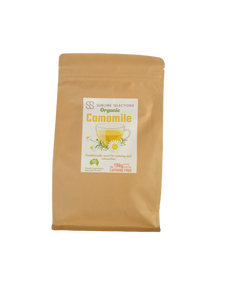 A Naturally Caffeine Free Tea
Our Hydroponic Chamomile gently develops on the palate with each sip and leaves a clean balanced and satisfying after-sensation. Dried flowers of Camomile have been used to create teas for centuries to cure a number of health problems. The active ingredient in Chamomile has a number of anti-irritant, anti-inflammatory, and anti-microbial properties, carminative and vulnerary.
The Remediate Benefits of Chamomile tea :
* Used as a great stress reliever
* Promotes sleep better
* Boosts your immune system
* Promote healthy skin and moisturizing abilities
* Soothes Stomach Ache
* Calms Muscle Spasms
* Natural Haemorrhoid Treatment
Direction: 1/2 to 1 teaspoon into 200ml fresh boiling water. Infuse for 3-5 minutes. Add honey if required, to taste.
"This product is not intended to diagnose, treat, cure, or prevent any disease"