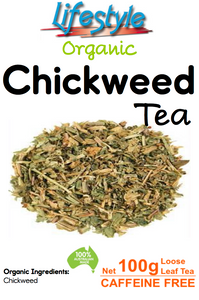 Naturally Caffeine-free tea.

Chickweed (Stellaria media) is used medicinal herb for many health benefits and as a food. It is valued for its nutritional content and fresh chickweed is typically eaten as a salad green.
This product is not intended to diagnose, treat, cure, or prevent any disease.
Organic Ingredients:
Chickweed

Direction: 1 teaspoon per 200ml, brew 2-3 minutes in freshly boiled water.