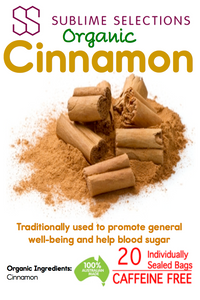 Traditionally used to promote general well-being and help blood sugar

Pure Ceylon Cinnamon or "True Cinnamon" is rich with Antioxidants. support Healthy Blood Sugar Levels, Promote Heart, and help Support Fat Metabolism.
Direction: Place 1 teabag per 200mls, brew 3-5 minutes in fresh boiling water at 100 degrees celsius.
"This product is not intended to diagnose, treat, cure, or prevent any disease"