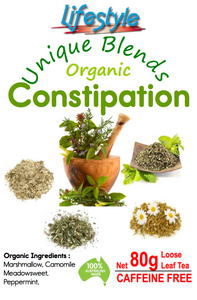 A Naturally Caffeine Free Tea.
Lifestyle Constipation Blend Herbal Tea Infusion may provide relief from Constipation. A special blend of select herb ingredients combines to provide gentle treatment to the system and assist as a constipation self-health management supplement.
The Remedying Benefit of the Ingredients :
* Marshmallow can help induces a relaxing effect of the bowel.
* Meadowsweet is utilized as a "diuretic" and may assist in the control of diarrhea and impact a degree of nourishment to the bowel.
* Camomile - For years, people have used camomile as an anti-inflammatory, a mild sedative, and as an anti-ulcer remedy.
* Peppermint - The carminative properties of Peppermint may help with indigestion, bloating, flatulence, and upset stomach.
Direction:  Place 1 teaspoon in a cup, add boiling fresh water. Infuse for 3-5 minutes. Add honey if required, to taste.
WARNING: Do not use if pregnant or nursing. Consult your healthcare specialist if symptoms persist or worsen.
"This product is not intended to diagnose, treat, cure, or prevent any disease"