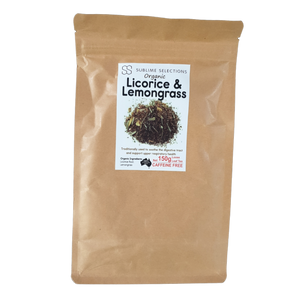 A Naturally Caffeine Free Tea.
Our Blend of Licorice & Lemongrass traditionally used to soothe the digestive tract and support upper respiratory health.
The Remedying Benefits of the Ingredients:
*) Licorice Root can help cleanse the colon, supports lung health, and promotes adrenal gland function. Licorice root has been widely favored by alternative health care professionals to help respiratory conditions like cough, cold, congestion, bronchitis, sore throat, and allergies. What's more, licorice is highly favored to help belching, heartburn, inflammation, eczema, psoriasis, and liver disorders.
*) Lemongrass is also an excellent detoxifying agent. It has the ability to cleanse out the toxins found inside the body particularly the digestive and cardiovascular system. It helps to detoxify the liver, pancreas, kidney, bladder, and the digestive tract. Lemongrass may not be suited for pregnant women and for mums breastfeeding.
Direction: Place 1 teaspoon per 200ml, brew 3-5 minutes in fresh boiling water. Serve: Hot or Chilled
Organic Ingredients: Licorice Root and Lemongrass
"This product is not intended to diagnose, treat, cure, or prevent any disease"