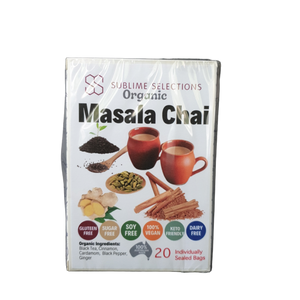 A strong blend of freshly ground spices with pepper and ginger mixed with selected full flavour Black Teas to enchant your taste buds. An ideal substitute for Coffee. Add a dollop of cream, sit back and savour the flavour.!
Our Chais are pure Spice and Tea Blends and do not contain any added flavours, sweeteners or colour.
Direction: Place 1 Teabag in a Cup and add boiling water. Infuse for 5-10 minutes. Add honey/sugar and hot milk, to taste.
Organic Ingredients: Black tea, Cinnamon, Cardamom, Ginger and Black Pepper