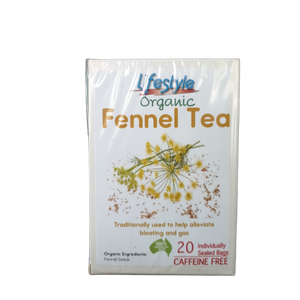 A Naturally Caffeine Free Tea.
Traditionally used to help alleviate bloating and gas
Fennel (Foeniculum vulgare) was first c by the ancient Romans, who used the fruits of the plant as a culinary ingredient. Fennel is an ancient herb with a mild licorice flavor that, traditionally used to helps relieve IBS symptoms, including bloating, gas, and intestinal spasms. 
The Remedying Benefits of Fennel Tea  :
*) Fennel contains vitamin B & C as well as many minerals including potassium, magnesium, and calcium. Fennel is often used for colic, wind, irritable bowel, kidneys, spleen, liver, lungs, suppressing appetite, breast enlargement, promoting menstruation, improving the digestive system, milk flow and increasing urine flow. 
*) Fennel is also commonly used to treat, angina, asthma, anxiety, depression, heartburn, water retention, lower blood pressure, boost libido, respiratory congestion, coughs and has been indicated for high blood pressure and to boost sexual desire, menstruation, easing the birthing process, and increasing sex drive. Some women 
use fennel for increasing the flow of breast milk 


Direction : Place one tea bag in a cup and add boiling water. Cover and steep for 10 minutes. Gently squeeze tea bag and remove. 
Warning : Not suited for pregnant. Consult your health care specialist if symptoms persist or worsen.
"This product is not intended to diagnose, treat, cure, or prevent any disease"