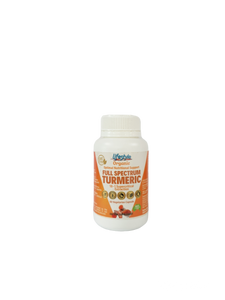 ANCIENT AYURVEDIC HEALERS CONSIDERED TURMERIC ROOT A SACRED HERB
FULL SPECTRUM TURMERIC :
* Help Support Joints Just one of hundreds of health benefits from turmeric
* Deep Detoxifier : Curcumin is an antioxidant found inside the Turmeric Root. Detox and cleanse your body with this amazing compound
* Alkalizes to Help with Occasional Stress
* Weight loss, A combination of appetite suppressant Ingredients.
* 18-1 Supercritical Extrcation Powder No Fillers, No Additives, No Artificial 
Ingredients.
SUGGESTED USE :
As a dietary supplement: 
3 capsules twice a day.

Storing Instructions :
Store in a cool, dry place. away from direct heat and sunlight.
100% vegetarian, HALAL, no filler, binder or common allergens
CAUTION :
Not recommended for use during pregnancy and if taking any medications or have any medical condition, consult your doctor before using this product 
* these Statement have not been evaluated by the therapeutic goods administration the product is not intended to diagnose, treat, cure or prevent any disease.