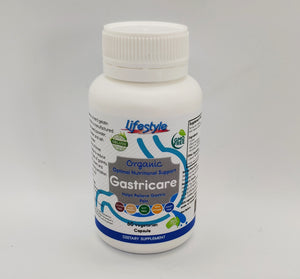 Gastricare is a hard gelatin capsule which is manufactured out of black seed powder, licorice powder and ash plantain powder. 
Combination of three powders helps to reduce the instant pain of gastritis, heal gastric ulcers and reduce burning sensation in stomach and duodenum.
SUGGESTED USE :
As dietary suppplement Two capsules twice a day.

Ingredients :
- Licorice (Glycyrrhiza glabra L)
- Black Cumin (Nigella sativa)
- Ash plantain (Musa paradisiaca) 
Storing Instructions :
Store in a cool, dry place. away from direct heat and sunlight.
100% vegetarian, HALAL, no filler, binder or common allergens
CAUTION :
Not recommended for use during pregnancy and if taking any medications or have any medical condition, consult your doctor before using this product 
* these Statement have not been evaluated by the therapeutic goods administration the product is not intended to diagnose, treat, cure or prevent any disease.