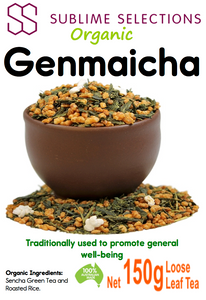 Sometimes called popcorn tea, discover this delicious organic sencha green tea blended with delightfully nutty, roasted organic brown rice. This is one of the most popular of green teas, blended to perfection for an amazingly refreshing brew. 

Organic Ingredients:
Sencha Green Tea and Roasted Rice.
Direction :
Place 1 teaspoon per 200ml, brew 1-3 minutes at 80 degrees celsius.
Enjoy without milk or sugar
"This product is not intended to diagnose, treat, cure, or prevent any disease"