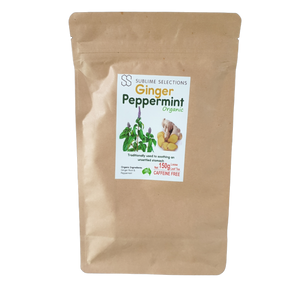 A Naturally Caffeine Free Tea.
Traditionally used to soothe an unsettled stomach
The ginger root and Peppermint leaves have been used for centuries for its digestion-supporting properties. We have combined those well-known and flavorful digestive herbs to help soothe an unsettled stomach. Our Ginger-Peppermint Tea is made with premium-quality, organic ginger root, and peppermint leaves, imparting a refreshing, spicy flavor and a pleasant aroma.
Direction : 1 heaped teaspoons per200mls, brew 5-10 minutes in boiling water Serve: Hot or chilled with a drizzle of honey if desired
"This product is not intended to diagnose, treat, cure, or prevent any disease"