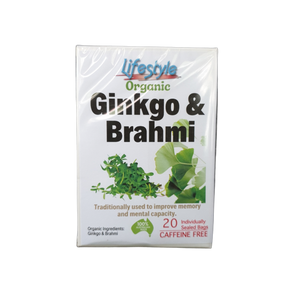 Ginkgo and Brahmi, are well known herbs for use as a brain tonic and may help improve memory and enhance mental functions, agility and alertness. Brahmi is particularly helpful in the retention of new information.
The Remedying Benefits of the Ingredients :
* Help to calm the mind and promote relaxation, improve motor learning ability, Promote greater concentration and focus and help in treatment of asthma.
* Ginkgo is also known to assist in the treatment of Impotence, PMS symptoms of fluid retention, pelvic congestion and breast tenderness, Diabetic complications, Allergies, Headache and migraine, Condition of poor circulation, including chilblains, Dementia and Alzheimer's disease, Mascular Degeneration.
Direction
:
Place 1 Tea bag in a Cup and add boiling water. Infuse for 3- 5 minutes. Add honey if required, to taste.

Warning : Not suited for pregnant and nursing women. Consult your health care specialist if symptoms persist or worsen.
"This product is not intended to diagnose, treat, cure, or prevent any disease"