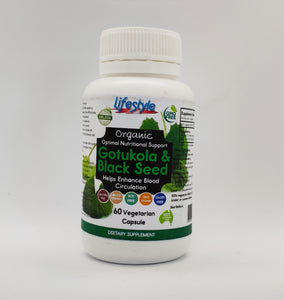 The ideal combination of Gotu kola (Centella asiatica) and Black Seed can be effectively used for increasing blood circulation, Skin complexion, enhancing memory power. 
Gotu kola can helps to increase Hb concentration and Red blood cell count.
Black seed also can helps provides all around protection and strengthen the Immune system.
SUGGESTED USE :
As dietary supplement for adults, take. 2 capsules daily after meals for Children (over 6 years) 1 capsules daily after meals or as recommended by a healthcare professional.
Storing Instructions :
Store in a cool, dry place. away from direct heat and sunlight.
100% vegetarian, HALAL, no filler, binder or common allergens
CAUTION :
If you are pregnant, Consult your physician. Not recommended for children under 6 yrs.
* these Statement have not been evaluated by the therapeutic goods administration the product is not intended to diagnose, treat, cure or prevent any disease.