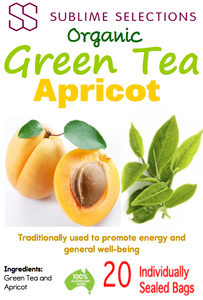 Traditionally used to promote energy and general well-being
Green tea Apricot combines green tea leaves with the delicate flavor of apricots. Warm, dense fruit-floral aroma, succulent texture. Our naturally flavored Green tea Apricot makes a light and refreshing drink that's popular both hot and iced. An Adagio customer favorite. A naturally healthy Cuppa!
Organic Ingredients: Green Tea and Apricot.
Direction: Place one tea bag in a cup and add boiling water. Cover and steep for 10 minutes. Gently squeeze tea bag and remove. Add Honey or Sugar if desired, to taste. Serve: Hot or Chilled.
"This product is not intended to diagnose, treat, cure, or prevent any disease"