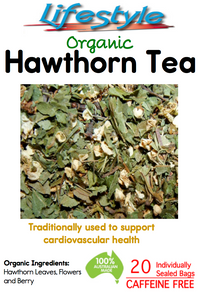 Hawthorn (Crataegus species) has been used to treat heart disease as far back as the 1st century. Hawthorn loves the heart. Hawthorn, like other tonics, focuses on stabilizing the existing system to achieve a healthy balance. Hawthorn also has bitter alkaloids especially in the leaves and flowers which stabilize the digestive system as well as the heart.

Direction: Place 1 Teabag in a Cup and add boiling water. Infuse for 3- 5 minutes. Add honey if required, to taste.
Organic Ingredients: Hawthorn Leaf, Flower, and berry.
WARNING: If you are pregnant or nursing, taking any medication consult a health care professional before use. 
"This product is not intended to diagnose, treat, cure, or prevent any disease"