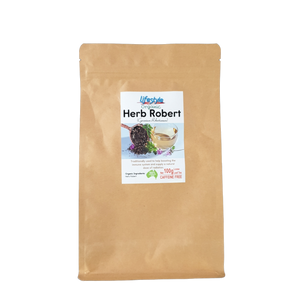 The Oxygen Herb

A naturally Caffeine Free Tea.

This herb's action is one of the most outstanding herbs that we can use regularly, as an enhancer of the immune system. Research has revealed herb robert is a source of germanium, a valuable element to the body, as it has the ability to make oxygen available to the cells. 
Lack of oxygen, available to the cells, can be caused by free radicals and a toxic state around the cells: meaning the cells cannot get the required oxygen, or the nutrients, to regenerate. More oxygen, at cell level, means the body has the opportunity to fight disease by its own powers, and healing can take place quickly.
Germanium not only works as an oxygen carrier and catalyst, but also stimulates electrical impulses, at a cellular level, which has a beneficial ripple effect, throughout the whole body. Germanium provides an antibiotic, antiviral, antioxidant arsenal.
It is believed that the herb was probably named after the 11th Century French saint Robert, Abbot of Molerne, whose medical skills were legendary.
The Remedying Benefits of Herb Robert:
Can help for diarrhea

May helps to improve functioning of the Liver and Gallbladder

May helps to reduce swelling (inflammation) of the Kidney, Bladder and gallbladder

May helps to prevent the formation of stones in the Kidney, bladder or gallbladder.

Can helps to relieve sore mount and throat
 "This product is not intended to diagnose, treat, cure, or prevent any disease"
 Organic Ingredients: Herb Robert
Directions:
1/2 to 1 teaspoon per 200ml, Brew 3-5 minutes in freshly boiled water.