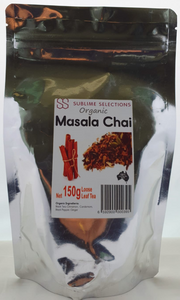 A strong blend of freshly ground spices with pepper and ginger mixed with selected full flavour Black Teas to enchant your taste buds. An ideal substitute for Coffee. Add a dollop of cream, sit back and savour the flavour.!
Our Chais are pure Spice and Tea Blends and do not contain any added flavours, sweeteners or colour.
Direction : 
Can be brewed two ways;
Use 1 teaspoon per 200ml, brew 5-10 minutes in water at 100 degrees for a quick fix. Or for a more authentic taste, brew in the traditional Indian fashion. Place 200ml water, 1 teaspoon chai and 2 teaspoon sugar (if desired) stir and bring to the boil, add 100ml milk keep stirring and return to low heat, simmer for 2 minutes.
Organic Ingredients:
Black tea, Cinnamon, Cardamom, Ginger and Black Pepper