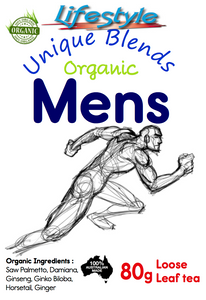 This special blend of herbs combines to create a tonic to induce stamina and endurance. assisting in, tissue building, Kidney, bowel, and bladder troubles. 

The Remedying Benefit of the Ingredients:
* Saw palmetto Benefit - Can help Testicular inflammation, urinary tract inflammation, strengthen the thyroid gland, stimulate appetite & aid digestion, prostate health, sexual vigor. 
* Damiana - Can helps Relieve anxiety, nervousness, & mild depression, 
general tonic to improve wellness. sexual stimulation increased energy, asthma, impotence, improve digestion & constipation. 
* Ginseng - General body vigor, prolong life, & diabetes, fatigue, aging, inflammations, internal degeneration, nausea, pulmonary problems, dyspepsia, vomiting, nervousness, stress, and ulcers. 
* Gingko Biloba - Helps to increase oxygen utilization & improves memory, concentration, Improves long-distance vision & may reverse damage to the retina of the eye.
* Horsetail, Anti-inflammatory, antibacterial, diuretic, antimicrobial, antioxidant, coagulant, demulcent, & astringent activity. 
* Ginger, digestive aid that can help to alleviate indigestion, diarrhea, and stomach cramps, aphrodisiac, can help to relieve pain from arthritis, rheumatism & muscle cramps & cholesterol-lowering properties.

Direction: 1 teaspoon in a cup, add boiling fresh water. Infuse for 3-5 minutes. Add honey if required, to taste.

Warning: If on medication, always consult your medical practitioner before use
"This product is not intended to diagnose, treat, cure, or prevent any disease"