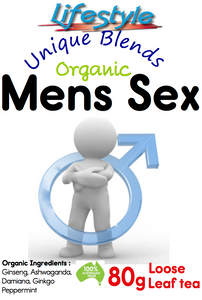 A combination of the world's most known sexual stimulant herbs blended with Peppermint to be taken hot or cold, so you may enjoy the satisfaction it provides.
The Remedying Benefits of the Ingredients:
* Ginseng has been used as a tonic for than 2000 years in Eastern medicine. While Tienchi ginseng has proven energy-enhancing effects, there is also evidence that it can improve sexual vitality too. It can help relieve bleeding, pain, inflammation, swelling, and contusion (bruising). It is a powerful adaptogen not only for people feeling "stressed out" but for anyone in need of a general tonic, anti-fatigue remedy, performance enhancer, or longevity aid.
 * Ashwagandha, known as Indian Ginseng is recognized in its ability to boost the immune system. But, immune-system benefits are far from the only perks of this plant. In addition, it is said to impact sexual health increasing fertility and even sperm count. It has also been traditionally used as an aphrodisiac. 
* Damiana has been used as an aphrodisiac and to boost sexual potency by the native peoples of Mexico, and is used for both male and female sexual stimulation, can help increased energy, asthma, depression, impotence, and menstrual problems.
* Ginkgo biloba is used in the treatment of impotency. The main cause of male impotence is poor circulation and impaired blood flow through the penis, which is often the result of atherosclerosis. Since ginkgo Biloba increases blood flow.            * Peppermint may provide the benefits of acting as an antiseptic, being anti-inflammatory, strengthening the heart, helping with insomnia, alleviating headaches, and acting as an aphrodisiac.
Warning: If on medication, always consult your medical practitioner before use
"This product is not intended to diagnose, treat, cure, or prevent any disease"