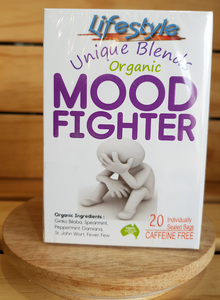 A Naturally Caffeine Free Tea.
Lifestyle Mood Fighter Herbal Tea Blend Infusions may be helpful as a self-health supplement to managing low feelings. This blend of herbs can induce a feeling of well being and relaxation.
Organic Ingredients: ST. John's Wort, Feverfew, Ginkgo, Damiana, Spearmint, and Peppermint.

Direction: Place one tea bag in a cup and add boiling water. Cover and steep for 10 minutes. Gently squeeze tea bag and remove. 
"This product is not intended to diagnose, treat, cure, or prevent any disease"