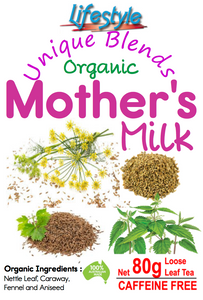 Herbal Tea blend, caffeine-free.
This special blend of herbs combines to help promotes healthy lactation for mum, with baby's tummy in mind.
The Remedying Benefits of the Ingredients:                                                                * Fennel seeds are a good source of vitamin C, which may account for some of its medicinal benefits, may promote the growth of breast tissue, increase lactation volume & improve the quality of breast milk.
* Caraway is second after the Fennel aid for breastfeeding mothers. It improves the amount of milk. Moreover, whenever the mother utilizes a caraway, her baby won't have problems with flatulence and indigestion.                                                                  * Nettle is a great source of calcium and vitamin A & K, three nutrients with impressive benefits on bone health and the immune, digestive, cardiovascular systems and stimulate milk flow in nursing mothers.
* Aniseed, the herb could also be used to enhance lactation within breastfeeding mothers
Direction: 1 teaspoon in a cup, add boiling fresh water. Infuse for 3-5 minutes. Add honey if required, to taste.
Warning: Consult your health specialist if you have any concerns before/during the use of this product.
"This product is not intended to diagnose, treat, cure, or prevent any disease"