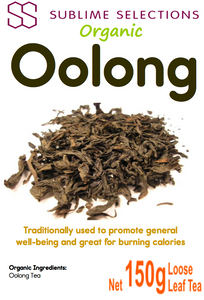 Oolong Tea (flat-leaf) specifically selected, single-trunk trees in high mountains produce this highly prized and carefully cultivated tea. A light, clear infusion with a yellow tint has a wonderfully strong natural aroma and delicate flavors. A deep and lingering, well-balanced spectrum and has a hint of charcoal on the clean, fresh, and highly refreshing finish. Oolong tea has an amazing taste and is well known for its weight loss properties.
Organic Ingredients: Oolong,
Direction: 1 teaspoon per200mls, brew 3-5 minutes boiling water. Serve: Hot or Chilled with a slice of lemon if desired.
"This product is not intended to diagnose, treat, cure, or prevent any disease"