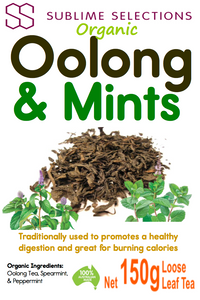 Oolong Teas are produced through a unique process including withering under the strong sun and oxidation before curling and twisting. With a woody, thick and roasted aroma, this Tea is blended with our hydroponic Peppermint and Spearmint, this tea is to be savored for its brisk and invigorating minty zing, it is a true favorite with all our regu.

Organic Ingredients: Oolong, Peppermint, and Spearmint.
Direction: 1 teaspoon per200mls, brew 3-5 minutes boiling water. Serve: Hot or Chilled with a slice of lemon if desired.