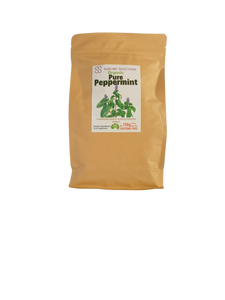 A Naturally Caffeine Free Tea.
Traditionally used to soothing digestive support 
Our own Hydroponically grown Peppermint, the flavor develops on the palate as you sip it, and leaves a clean balanced, and satisfying after-sensation. Peppermint tea is an age-old remedy or many kinds of stomach upset. It is both an antispasmodic and carminative, which means it helps relieve many digestive system disorders, including bloating, gas, indigestion, and nausea, and cramping. Peppermint is also can help for anxiety, cramps, headaches, and 
skin irritations.


Direction: 1 heaped teaspoons per200mls, 
brew 3-5 minutes in water at 100 degrees Celsius Serve: Hot or chilled with a drizzle of honey if desired
"This product is not intended to diagnose, treat, cure, or prevent any disease"