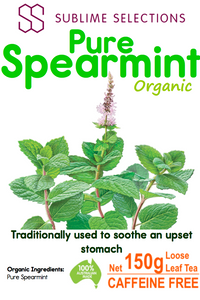 A Naturally Caffeine Free Tea.
Our own Hydroponically grown Spearmint, the flavor develops on the palate as you sip it, and leaves a clean balanced, and satisfying after-sensation. Spearmint has been used for thousands of years, has low calories, and contains zero cholesterol.
Organic Ingredients:
Pure Spearmint 
Direction: 1 heaped teaspoons per200mls, brew 3-5 minutes in water at 100 degrees Celsius Serve: Hot or chilled with a drizzle of honey if desired
"This product is not intended to diagnose, treat, cure, or prevent any disease"