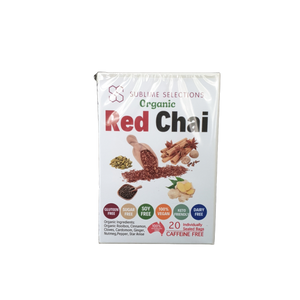 A strong blend of freshly ground spices with pepper and ginger mixed with premium Organic Rooibos. An ideal substitute for Coffee. A caffeine-free Chai to enchant, intrigue and intoxicate a Chai Lover, sit back and savour the flavour! A Chai with pure Spice and Rooibos and do not contain any added flavours, sweeteners or colour.
Organic Ingredients: Rooibos, Cardamon, Ginger, Cinnamon, Star anize, Black pepper, and Nut Meg. 
Direction: Place 1 Teabag in a Cup and add boiling water. Infuse for 5-10 minutes. Add honey or milk if desired, to taste.
"This product is not intended to diagnose, treat, cure, or prevent any disease"