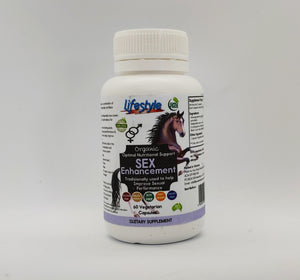 Sex Enhancement is a combination of Ashwagandha , Welpenella and Black seed.
Ashwagandha and Welpenella have been traditionally used as aphrodisiacs for many years.
It can help relieve sexual inadequacies, improves overall sexual performance & spermatogenesis. Also can helps improve physical fitness.
Black seed (Nigella sativa) aids in the utilisation of the combination and strengthens the immune system.
SUGGESTED USE :
As dietary supplement take 2 capsules after dinner
Storing Instructions :
Store in a cool, dry place. away from direct heat and sunlight.
100% vegetarian, HALAL, no filler, binder or common allergens
Organic Ingredients :
- Ashwagandha Root (Vitania sominifera)
- Welpenella Leaves & stem (Cordiospermun Halicacabum)
- Black Cumin Seed (Nigella sativa) 
CAUTION :
Not recommended for use during pregnancy and if taking any medications or have any medical condition, consult your doctor before using this product 
* these Statement have not been evaluated by the therapeutic goods administration the product is not intended to diagnose, treat, cure or prevent any disease.