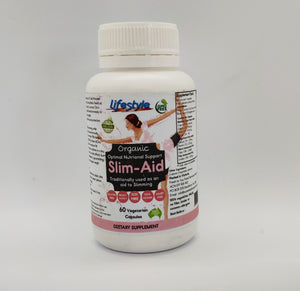 Slim-Aid is a combination of Cold Pressed Extra Virgin Coconut Oil and Black Seed oil.
Cold Pressed Extra Virgin Coconut Oil in Slim-Aid is a proven safe herbal remedy to helps to reduce body weight.
Black Seed provides all round protection to the body.
Slim-Aid can helps healthy slimming while improving the body's natural immunity.
Slim-Aid contain more than 92% Medium Chain Fatty Acids (MCFAs), these MCFAs speeds up metabolism to reduce fat deposition and burn more calories in a day.
Slim-Aid is 100% natural, no side effects, can helps Burn fat & regulates Cholesterol, a good energy source and helps promotes proper weight management.
SUGGESTED USE :
As a dietary supplement for adults, take. 1 capsules with a glass of water before meals 3 times a day daily. 
Storing Instructions :
Store in a cool, dry place. away from direct heat and sunlight.
Organic Ingredients :
Virgin Coconut Oil (Cocos nucifera)
Black Seed Oil (Nigella sativa)
CAUTION :
If you are pregnant consult your physician before use.
* these Statement have not been evaluated by the therapeutic goods administration the product is not intended to diagnose, treat, cure or prevent any disease.