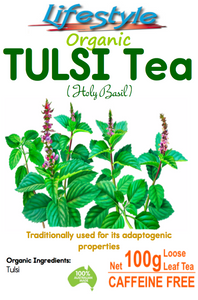 A Naturally Caffeine Free Tea.
Tulsi also is known as Holy basil (Ocimum sanctum L.) in Hindi, is one of India's most sacred herbs, and is treated with reverence in daily ceremonial use. The herb is also a popular culinary ingredient as well as one of the primary herbs used in Ayurveda and has traditionally been used by herbalists for its adaptogenic properties. Organic holy basil leaves, and has a slightly spicy aroma and flavor. 

This product is not intended to diagnose, treat, cure, or prevent any disease.
Organic Ingredients: Tulsi

Direction: 1 teaspoon per 200ml, brew 2-3 minutes in freshly boiled water.