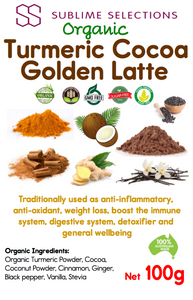 Turmeric is an ancient root in the ginger family that has moved into modern mainstream as a wellness expert tout its flavor and potential health benefits. Expanding on the popularity of our Turmeric Tea, we have created uniquely Turmeric Cocoa Golden Latte. The turmeric and spices add such delicious warmth to the rich cocoa, while the subtle sweetness from stevia and the creaminess of coconut makes it taste incredibly indulgent. The cocoa keeps alert without the jitters and anxiety from caffeine. It's also the most comforting way to start your day, this drink is incredibly delicious can be enjoyed any time of the day.

Organic Ingredients:
Organic Turmeric Powder, Cocoa, Coconut Powder, Cinnamon, Ginger, Black pepper, Vanilla, Stevia
Direction : 
Add 1 teaspoon of powder to cup. Add a dash of hot milk or water to create a paste. Simply top with 170mls of hot or cold milk (Almond, rice, soy, or coconut) stir well until blended through. Add to ice cream, pancakes, raw cakes, Smoothies, ideal over Breakfast cereal, or Yoghurt.
Storage: Reseal tightly after opening. Refrigeration recommended and avoid humidity for best serving. 
"This product is not intended to diagnose, treat, cure, or prevent any disease"