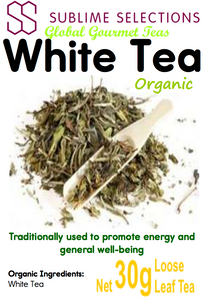 The most full-bodied of the delicate white teas, made from a high-grade leaf that consists of one tender white tea bud for every two opened leaves. High in antioxidants and low in caffeine, this is a multilayered, deceptively complex and refined tea. As it has the least processing of any tea, white tea is well known for its many health benefits, an abundance of antioxidants and delicious taste. Our white tea has a full-bodied, fresh, delicate, sweet flavour with earthy characteristics and brews a clean, yellow and bright infusion.

The Remedying Benefits of White Tea: 
* Contains high levels of powerful antioxidants thought to prevent conditions, improve digestion and help to burn calories.
* Antibacterial and antiviral action and can help to Improved cardiovascular function.
* Contains high levels of catechins, some of which reduce the occurrence of atherosclerotic plaques and the severity of strokes and prevent cancer in non-human studies.
* Improved skin appearance
Directions:
1 teaspoon per200mls, brew 5-7 minutes in water at 80 degrees Celsius 
Organic Ingredients:
White Tea
"This product is not intended to diagnose, treat, cure, or prevent any disease"