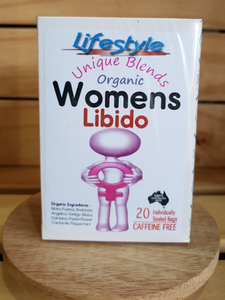 A selection of herbal remedies that work to not only improve your sex life but nourish your overall health and enhance your sense of well-being. Blended with Peppermint and Camomile for a smooth tasting and satisfying drink.


Organic Ingredients: Muira Puama, Shatavari, Ginkgo biloba, Damiana, Angelica
WARNING: If you are pregnant or nursing, or on medication, always consult
your medical practitioner before use.
"This product is not intended to diagnose, treat, cure, or prevent any disease"